Beading Workshops & Birthday Parties! 💗 WORKSHOPS 💗 For more info on our popular workshops, check out the 'services' section on this website. 💗 MOBILE BIRTHDAY PARTIES 💗 Fun, creative party entertainment for ages 6yrs and up! We service Hastings, Havelock & Napier and can bring everything you need, including table and chairs if required. Three party options to choose from: - Necklace & Bracelet Set - Beaded Angels - Bookmark, Bag Tag & Key Chain Pricing: $250 for up to 8 children Extra guests $20pp Things to note: The time you book is when we will be ready to begin the workshop - For example, if you book for 10.30, we will arrive 20mins before this to set up and be ready to begin the workshop at 10.30 (and no later than 10.40) so it's quite important your guests know to arrive on time. We recommend having your guests arrive 30mins before the workshop is due to begin. The workshop will take about 1hr 15mins. Once the workshop is complete, we will need about 45mins to finish every thing off and pack up.
Kids Workshops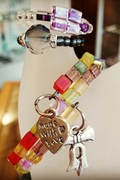 We have lots of workshops to choose from! Necklaces, bracelets, anklets, bookmarks, keyrings, beaded angels... For more detailed information, pop over to the 'services' section of this website.
Birthday Parties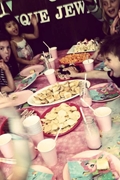 Make your child's birthday party an EASY one - book a party at St Beads! Parties take about 1hr 15mins (add 45mins if bringing food) and are held in a private making zone. Party Options: ~ Beaded angels - 6yrs+ ~ Bookmark, key ring and mini angel bag tag - 6yrs+ ~ Necklace and bracelet - 5-10yrs (most popular) If you wish to book a mobile party or would like to have a birthday party on a Sunday, please phone 0800 8354488.
269 Emerson St (Clive Square end), Napier
0800 835 4488
Monday

Tuesday

Wednesday

Thursday

Friday

Saturday

10:00am - 4:00pm

10:00am - 5:00pm

10:00am - 5:00pm

10:00am - 5:00pm

10:00am - 5:00pm

10:00am - 4:00pm